Permitting and design work are in progress for the Municipality of Anchorage (MOA) West Anchorage Snow Disposal Project.
The Final Design Study Report for the selected the Connor's Bog site is available in the Project Documents section below.
During fall 2021, the project team hosted public meetings that focused on the design and permitting phases of the project. These meetings kept the community informed and gathered feedback from interested citizens. A recording of the November 9, 2021, public meeting presentation is available for viewing.
Information on upcoming public meetings and engagement opportunities may be found below in the Public Outreach section. All upcoming public engagement opportunities will be posted on the events calendar.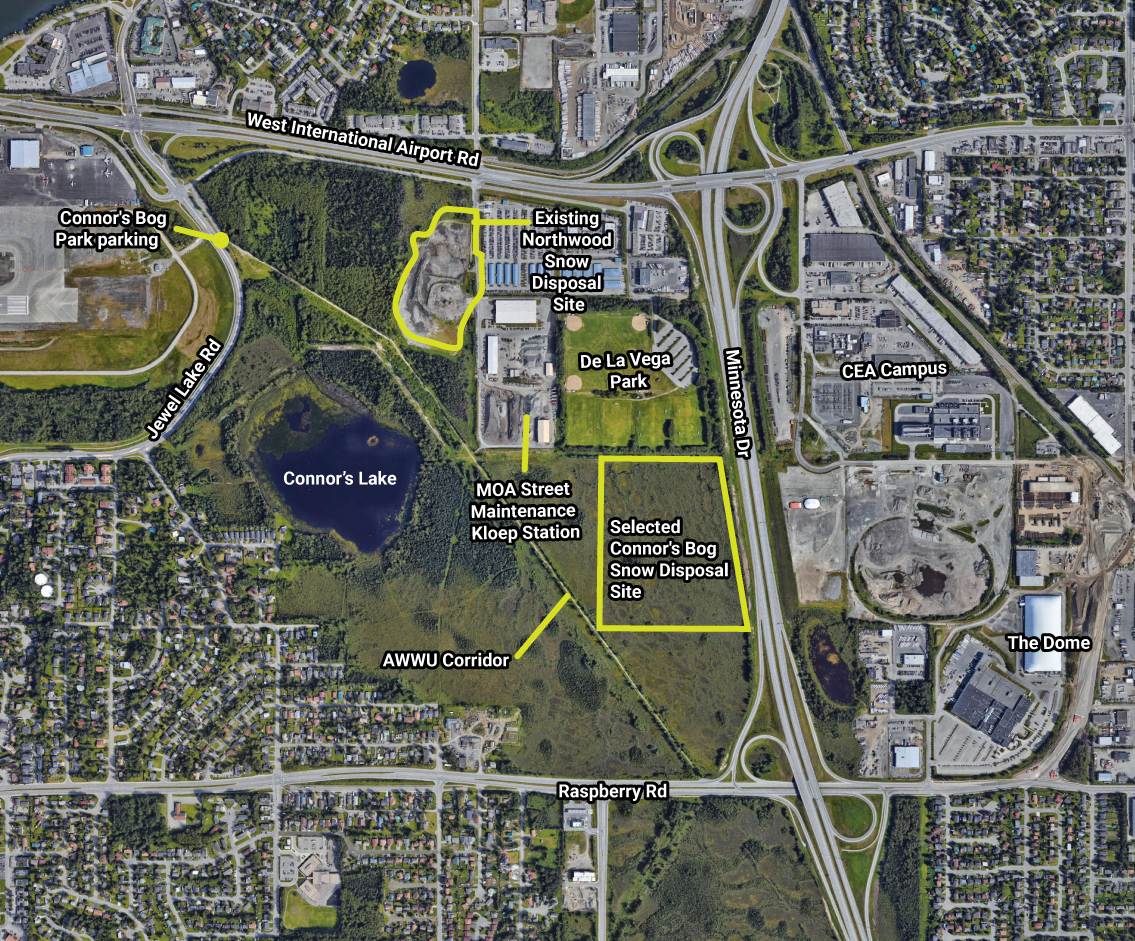 Permitting Requirements and Information
The municipal permitting and zoning requirements include:
Completed: Comprehensive Plan Amendment
Completed: Rezoning from Transitional (TR) to Public Lands and Institutional (PLI)
In Progress: Conditional Use and Land Reclamation Permits
In Progress: Title 21 snow site design waivers
Completed: Municipal use of designated parkland for road access (approximately 0.2 acre)
Additional permitting will include MOA Building Safety permits and utility agreements.
The approved jurisdictional determination documents for the wetlands located in the project site of Connor's Bog can be found in the Project Documents section below.
Project Documents
Each of the documents below are downloadable PDF files. You will need Adobe Acrobat Reader to view the documents. If you do not have Adobe Acrobat Reader, you may download a free version from https://get.adobe.com/reader.
Public Outreach
You can stay informed about the project and share your feedback with the project team by attending a public outreach event. As design and permitting work continue, we will host additional public events in the community.
For the latest information on upcoming events, join our email list using the signup form below or stay tuned to this page.
At any time, the project team welcomes stakeholder questions or concerns. You can contact the project team at [email protected].
Archived Public Open Houses & Events
Project Management and Engineering Team